Racine Veterans Memorial Walk
The Racine Veterans Memorial Walk  Project is dedicated to preserving and honoring the brave men and women Veterans who devoted their all to fighting for our rights and freedoms. 
A series of three Veterans Monuments will be built.  Featuring larger than life Combat Art scenes from renowned US and European Artists. Designs will depict impactful images dedicated to WW2, Korea/Vietnam and the Gulf-Afghanistan/Iraq wars. Additional educational elements and Veteran presentations will be developed for schools as part of the project.
Community support and donations, along with local Business Sponsorship's and Veterans group participation,  will insure the success of the Memorial Projects. It will provide an Honorable tribute to Veterans who paid the price, sometimes with their lives, to protect the freedoms we enjoy.
You can also donate by purchasing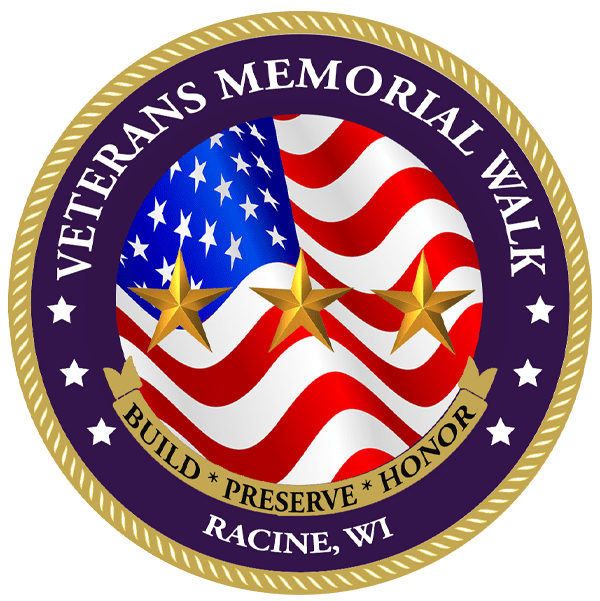 The original Veterans Monument program was launched as the Iwo Jima Memorial Midwest Project, Inc. (IJMM) on February 23rd, 2020. The design of the monument was a twenty-thousand pound Iwo Jima Statue of the flag raising  This was a four year multi-million dollar project. Ten days after the launch, the Corona Virus pandemic hit the country.
Over the past year our Team has worked to create new, less costly memorial concepts. These in effect, will create an even more impactful and attractive series of monuments that surpass the original single statue project. The objective of providing a memorable, attractive and educational monument will still be reached by the collective group of three Memorials creating the "Racine Veterans Memorial Walk" at Pritchard Park, Racine, WI. Each will be built, through separate fundraising efforts, one after another.
Initial new monument designs are comprised of a double-sided 32 foot long, 10 ft. high series of 8 Black Granite Panels per side, with Laser Etched Combat Art of the era. A Bronze Relief 4×4' will then be incorporated into the layout. There are considerations for shifting the design to one sided 16 panels or 64 feet of panels and 3 foot endcaps for a total of 70 feet long.
The first monument will be World War II, with one side depicting the Pacific Battles and the other the European Campaign. We have commitments from ten renowned National and International Combat Artists or their Estates to use their artwork.
After completion of the WWII Monument, the Project will advance to raise funds for the Korea/Vietnam Memorial and then Gulf-Iraq/Afghanistan. Art will be selected from works that are of each individual war. The same design of multi, two-sided granite etched panels and a bronze relief will be consistent for each Monument.
Extending the program to include the other Memorials, over time, signifies Racine County resident's commitment to preserve and honor all their military Veterans. Many of whom paid the ultimate price to preserve our freedoms