Monuments Laser Etched Design
The Project will fund-raise for three Monuments one at a time. The first will be WWII, one side's art the Pacific Campaign, the other side the European Campaign. Then Korea/Vietnam and Desert Storm-Iraq/Afghanistan. Once all three are completed the final design will form a Veterans Memorial Walk.
The Monuments Design will consist of a two sided display on a 2 foot cement base, faced with Lannon stone, that holds eight 4×8 feet high Black Granite Laser etched panels, 1.5 thick. Total length of the memorial will be roughly 36 feet.
Each panel will feature large battle scene artwork from the era of the Monument.  The Project has obtained permissions from nine nationally  renowned US and British Combat Artists, or their Estates, to utilize their artwork.
The Racine Veterans Memorial Walk (RVMW) Team has worked over a year researching new monuments and laser image Veterans designs. Contacts with major laser imaging monument production companies is ongoing. Numerous existing Veterans groups provided us guidance and construction documents and photographs.
Two to three final design options were reviewed and replicating the basic design of the Springboro, OH Veterans memorial, with adjustments to size and layout, determined our final selection. Below are photographs of Springboro and other Laser monuments for reference. Selection of art, which is in process, will provide graphic depictions of the first WWII monument.
The following examples of Veterans Laser monuments are provided for reference. The RVMW design will combine various aspects of these monuments to create the final memorial.  It will be the first to feature Combat Art vs photograph collages.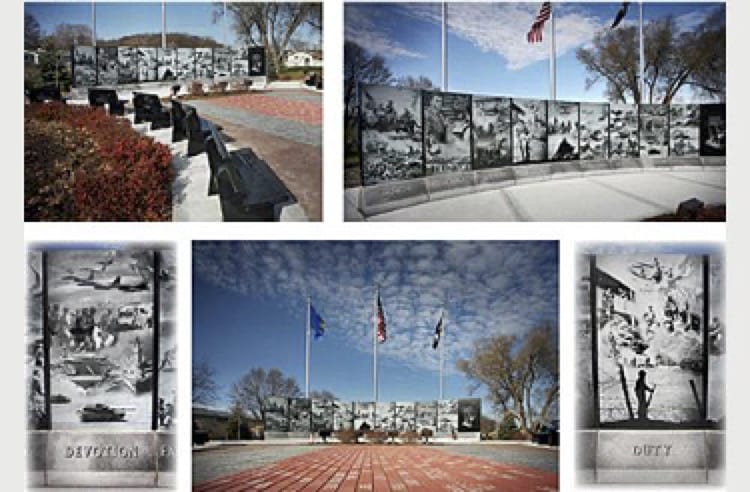 The RVMW WWII Memorial will consist of 8 panels on both sides of the monument for a total length of 36 feet with Lannon stone covered base.
Laser Imaging on Black Granite Process
Experience the advanced, unique, quality production process used for our laser etched panels.
Imagine that with the Combat Art the RVMW has been approved to use!